This Promotion is no longer available. This product can still be purchesed at its normal price.
Topical Pain Relief Cream
Free shipping for orders over $50!

Add more products - $50.00 left.
Feel Your Best
We can all agree - pain is an inconvenience we can do without. That's why we've created a pain relief solution that works fast so you can start enjoying your life again. Hempvana® Pain Relief Cream helps relieve pain from swelling, inflammation, and bruising. With added hemp seed extract, it absorbs quickly while leaving your skin hydrated. Isn't it time you started feeling your best again?
Topical Pain Cream
Regular oral medications treat your whole body and take time to work. If only a certain area hurts, then why are you treating your body? A topical pain relief cream allows you to target specific pain areas and was designed to enhance rapid absorption. When you use Hempvana® Pain Relief Cream, you're getting fast relief.
What's Trolamine Salicylate?
Trolamine salicylate is in the same drug family as aspirin: salicylates. It works to help relieve pain from inflammation and tissue damage from conditions like arthritis, joint pain, bruises, and sprains and strains of muscles. Hempvana® Pain Relief Cream uses active ingredient trolamine salicylate 10%, which is the maximum allowable concentration of the drug.
Enriched with Hemp Seed Extract
What sets Hempvana® Pain Relief Cream apart from other types of pain relief is that it's enriched with hemp seed extract, which is known for its moisturizing benefits. It's an occlusive moisturizer, which helps lock in your skin's moisture while providing a protective barrier. Plus, it aids in absorption. The more you massage Hempvana® Pain Relief Cream into your skin, the better it works.
Great for Treating Arthritis Pain
Arthritis pain hurts. It can disrupt everyday tasks and make them downright difficult. The good news is that trolamine salicylate, Hempavana® Pain Relief Cream's active ingredient, is known to help ease the pain and stiffness arthritis sufferers experience. Simply scoop a dab from the jar and massage into your hands or joints. You'll soon feel that pain dissipate and be able to move comfortably.
Excellent for Muscle Soreness
Whether you're helping your kid move or you pushed yourself too hard at the gym, muscle soreness can happen when you least expect it. When your muscles are sore, help relieve the pain with Hempvana® Pain Relief Cream. Rather than waiting and wondering if your pain reliever will work, Hempvana® Pain Relief Cream absorbs quickly and goes to work fast.
FAQs
HOW LARGE IS THE JAR?

Hempvana ® Pain Relief Cream is available in a 4oz. (119g) jar.

HOW DO I APPLY HEMPVANA ® PAIN RELIEF CREAM?

Massage a generous amount to the affected area until the cream is thoroughly absorbed into the skin. Repeat as necessary, up to 4x a day.

WHAT IS THE ACTIVE INGREDIENT?

Hempavana ® Pain Relief Cream uses Trolamine Salicylate (10%).

WHAT ARE THE INACTIVE INGREDIENTS?

Water/Aqua, Ethylhexyl Stearate, Butylene Glycol, Dimethicone, Stearic Acid, Caprylic/Capric Triglyceride, Hemp Seed Oil, Glyceryl Stearate, PEG-100 Stearate, Cetostearyl Alcohol, Sunflower Oil, Allantoin, Tocopheryl Acetate, Ethylhexyglycerin, Isohexadecane, Sodium Acrylate/Sodium Acryloyldimethyl Taurate Copolymer, Acrylates/C10-30 Alkyl Acrylate Crosspolymer, Caprylyl Glycol, Hexylene Glycol, Polysorbate 80, Disodium EDTA, Green 5 (CI 61570), Sodium Hydroxide, Phenoxyethanol.

ON WHAT TYPES OF PAIN DOES HEMPVANA ® PAIN RELIEF CREAM WORK BEST?

Hempvana ® Pain Relief Cream temporarily relieves minor pain associated with arthritis, simple backache, muscle strains, sprains, and bruises.
Back to Hempvana Homepage Assortment
Customer Reviews
Write a Review
Ask a Question
Filter Reviews:
pain
cream
Hempvana
knees
relief
husband
arthritis
back
stuff
shoulders
06/16/2021
Amina

United States
Hempvana Cream works!
I have been using this product for quite some time. I used to buy from Walmart now I am buying online....get some discounts. I have psoriatic arthritis and it helps with my pain. I would rather use this than taking prescription medications which helps with one problem but then creates another. I just bought the joint support tablets as well.....let's see how that works for me. In my previous order I bought the Pain Relief Gel Arthritis....I don't see that now on the website.....I really liked it works even better for me.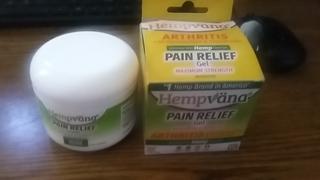 06/15/2021
Ronald B.

United States
Hempvana pain relief cream
I have used this cream for bad knees and shoulder pain and it does a good job, I appreciate it and use it daily and would recommend it over other product OTC.
06/13/2021
RE P.

United States
Does it work?
Yes, rub in to area needing pain relief at least twice daily and get the results you need! Getbb by the 2-pack for value.
06/11/2021
Digna Q.

United States
hempvana cream
Excellent and relieving highly recommended to All who has pain from arthritis or whatever after exercise or sports
06/11/2021
Martine S.

United States
Great relief
I got a free one when I ordered some Hempvana rockets, and I sent it to my mother who has arthritis and an impairing nerve condition. She told her friend that it actually worked and provided her great relief. Her friend asked me to order it for her, do when they went on sale I ordered my mom a 2 pack as well as her friend. They both said it relieves pain, so I'm going to get some for my back and review it from a personal aspect.
06/10/2021
Janet C.

United States
Saves My Days
I love Hemp vana Pain Relief cream so much! I put it on my low back, knees, hands and any muscle or joint that is hurting. In a short time, pain is gone. This is the best cream I've ever used and I have tried many.
06/09/2021
Carlos T.

United States
Great cream
The cream works great.
06/09/2021
Bob H.

United States
Great product !
The pain relief in my knees is almost instant !