This Promotion is no longer available. This product can still be purchesed at its normal price.
1 Rocket Relief Pen $19.99
Free shipping for orders over $50!

Add more products - $50.00 left.
Disclaimer: Due to the unprecedented holiday shipping season, there may be shipping delays
Tired of pain treatments that don't work? Enjoy TENS pain relief but can't take your TENS unit with you while you're on the go? Now you can enjoy life again with a portable TENS pen for pain relief. Simply place it where it hurts and watch as the relaxing currents give your trigger point a stimulating massage using TENS technology known to boost your endorphins and helping to relieve your pain. The best part is, it fits in your pocket or bag easily — making it the perfect companion for travel!
Ready for pain relief you can SEE working? Hempvana Rocket delivers a visible pulsing twitch. You can SEE it work and you can FEEL it work. It helps temporarily relieve pain associated with sore and achy muscles in your shoulder, waist, back, neck, arms, and legs! Whether your working, working out, or just enjoying life, Hempvana Rocket can give you relief. You'll never have to worry about annoying stick pads. And the best part is you'll have TENS therapy anywhere you need it since you're not limited to using wires. Plus, it has an easy-to-read LED display with 9 levels of adjustable intensity so you get the perfect pain treatment every time.
Hempvana Rocket uses TENS technology just like doctors and physical therapists but without the expensive visits. How does TENS work? TENS stands for transcutaneous electrical nerve stimulator. A TENS device sends electrical pulses through your skin that release endorphins and other chemicals to block pain signals in the brain, effectively reducing pain!
FAQs
IS HEMPVANA ROCKET RELIEF RECHARGEABLE?
Hempvana Rocket is battery-operated and requires only one 1.5V AA battery (not included).
HOW MANY UNIQUE HEADS TO I GET?
You'll receive three unique heads for Rocket Relief – one flat head for large body areas, one singe precision head, and the exclusive double pulse head.
CAN I CHANGE THE INTENSITY?
Yes! To change the intensity, simply press the arrow buttons – up to increase intensity or down to decrease intensity.
WHY DO I FEEL A SHOCKING SENSATION WHILE USING HEMPVANA ROCKET?
When using Hempvana Rocket, it is normal to sometimes feel an electronic sensation on the hand holding the Hempvana Rocket. Hands that are moist or damp can intensify this electronic sensation making the device uncomfortable to hold. Please make sure your hands are clean, completely dry, and free of oil or lotion. Also refrain from wearing any jewelry in the area treated to avoid any shocking sensations.
WHY ARE CLEAN HANDS IMPORTANT WHILE USING HEMPVANA ROCKET?
The Hempvana Rocket uses the hand you're holding it with as a "ground" to complete the electronic circuit in your body. For this reason, it is also important to note that the unit will not function if you wear gloves or hand coverings.
I HAVE A PACEMAKER. CAN I USE HEMPVANA ROCKET?
Do not use Hempvana Rocket with any of the devices listed below:
1.Other TENS devices;
2.Pacemaker, implanted defibrillator, implanted metallic or electronic devices. Use with these devices could cause electrical interference, burns, electric shocks, or death;
3.Life supporting medical electronic devices, such as a respirator or an artificial heart or lung.
WHY IS HEMPVANA ROCKET NOT VIBRATING AS I EXPECTED?
Try adjusting the intensity level. It might not be as strong as you like it. You should always start with the lowest intensity and work your way to a stronger level. You should feel a pulsing sensation and/or notice your muscles twitch, an intensity that feels strong yet is still comfortable.
I NEVER RECEIVED INSTRUCTIONS WITH MY HEMPVANA ROCKET.
We apologize for this inconvenience! You can easily access the instruction manual HERE.
Back to Pain
Customer Reviews
Write a Review
Ask a Question
Filter Reviews:
Rocket
relief
hand
tender hamstring
pain
back
unit
something
money
foot
01/09/2022
Mitchell K.

United States
Incredible product!
This product is amazing. Such an economical product, that works incredibly well to stimulate muscles at varied power levels with just a battery.
12/20/2021
John

United States
Works good
I like the ability to set the intensity it is very useful. Also nice that it only uses one battery.
12/14/2021
Jack D.

United States
This is a "Gem"
Works very well and you don't have to go to China to get a treatment!
12/05/2021
Harry A.

United States
WORTHWHILE
Awesome it does exactly as advertised. It is worth the money because it helps with pain In my legs. Thanks
11/23/2021
Nancy L.

United States
Works exactly as it says
It is interesting! It does work exactly as it says it does! It does take a little practice! I bought it mainly for around my knee area. It works on soft tissue and NOT the joints , EXACTLY like any TENS unit . It comes with a warning sticker on the side (about keeping away from children ) you want to remove that sticker so that your hand makes a good connection to the unit . And definitely START AT A LOWER SETTING UNTIL YOU ARE USED TO HOW IT WORKS and where you want to use it on your body. And then as you get to know how it works for you , turn up the intensity! It does work great as a portable , wire free, sticky pad free TENS device !!! I would definitely recommend it!! I can't wait until I have another Fibromyalgia flare up ( never thought I would hear those words coming out of me!! Lol ) so I can see if it helps the pinchy muscle pain I have !! I really believe if you are having problems with it , you probably need to learn how to use it properly. It's not difficult to use . Just a little practice and start out gradually.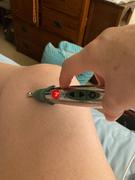 11/22/2021
Kevin T.

United States
Wow, impressed
Great, very surprised how well this works and for a great price. Highly recommend.
11/13/2021
Michael L.

United States
Rocket relief pen
I like it very much Works great Thank you
10/24/2021
Dorothy C.

United States
Rocket
It didn't even turn on I sent a message and received credit. Maybe if I should buy again not sure.