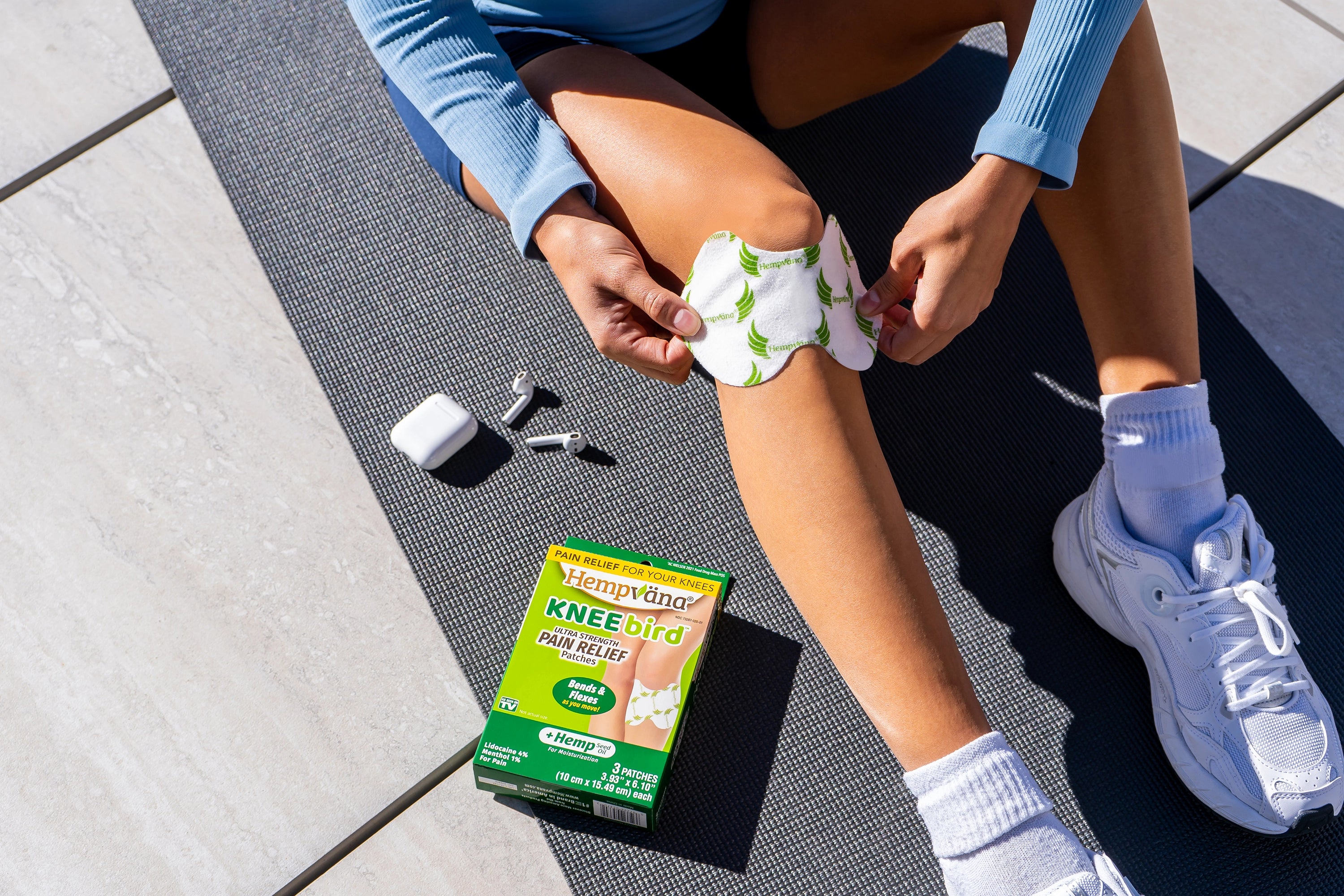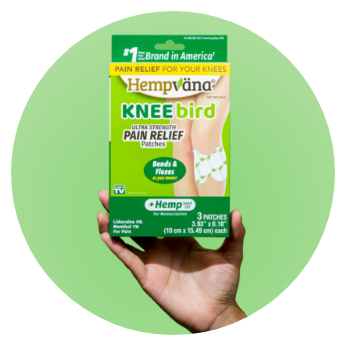 GET UP TO 37% OFF + A $20 FREE GIFT
The Only FDA-Listed Hemp Pain Patch For Your Knees
GET UP TO 37% OFF + A $20 FREE GIFT
FDA-Listed
Advanced Pain Relief
CoolNumb® Technology
Ergonomically Designed
Up To 8 Hours of Relief
Relieve Knee Pain & Increase Mobility For
Under $2 a Day!
One third of all Americans suffer from knee pain which directly causes a lack of mobility.
Common causes of knee pain: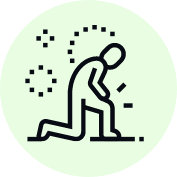 Strenuous Activity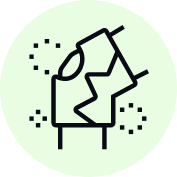 Sports Injuries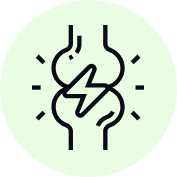 Osteoarthritis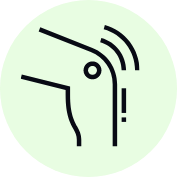 Inflammation
Obesity
Real Science, Real Pain Relief For Your Knee.
Our trademarked triple-action CoolNumb® Technology
Some pain patches, such as BioFreeze®, effectively use menthol to cool the pain. Many use lidocaine to numb the pain. Hempväna KneeBird® uses an exclusive Triple Action system.
Includes Triple-Action
CoolNumb® Technology
Hempväna® KneeBird® Ups The Competition
| | | | | |
| --- | --- | --- | --- | --- |
| Hempväna® KneeBird® VS Others | | | | |
| Legal Claims | | | | |
| FDA Listed Ingredients | | | | |
| Pain Relief for up to 8 hours or more | | | | |
| Ergonomic Knee Design | | | | |
| Hemp Seed Oil | | | | |
| CoolNumb® Technology | | | | |
6 Incredible Benefits of Hempväna® KneeBird®
Triple Action
Menthol cools the pain. Lidocaine numbs the pain. Hemp seed soothing relief.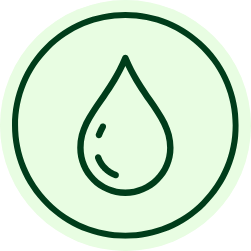 Soothing
Infused with pure hemp seed oil provided extra-soothing benefits.
CoolNumb® Technology
Uniquely designed to immediately cool the pain followed by numbing the pain.
8 Hour relief
Each patch can provide up to 8 hours of pain relief.
Comfort
Stretch to move with your body. Light adhesive to stay put, yet easy to remove.
FDA
Use FDA listed ingredients. Made in FDA registered facility. Follows FDA protocol.
Compact & Easy to Use
Relief On-The-Go
Simply apply the KneeBird® patch. Immediately you will feel a cooling sensation for fast relief. After 10 minutes, the pain will become numb thanks the efficient use of lidocaine. We call this CoolNumb® technology. The hemp seed oil adds additional soothing relief.
Real People. Real Pain Relief.
These are actual customers that have seen successful pain relief with consistent use of Hempvana's KneeBird®!
Works great and stays stuck
"I like these a lot. They work well for my leg pain and I can use them in areas I cannot use square patches. They stick great and dont smell overly mediciney like others I have used."

@K. Koehler
Long Lasting Pain Relief
"My husband uses these on his knee on his really bad days. He said he quites a bit of relief from them and it's almost immediate. I just wish there was more then 3 in a pack. They did stay in place for him during a full work day and left his skin feeling soft even after it was removed. Definitely helps him to take the edge off in between his knee injections.

@Mom2Dom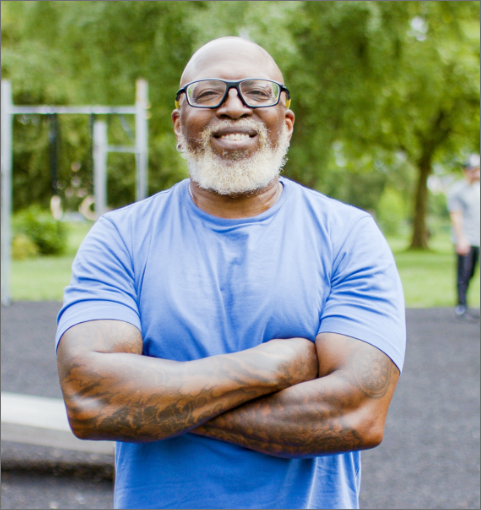 Really works
"I got this for my dad who constantly gets knee pain as he does manual labor for his occupation. He said he felt the difference immediately. Will be ordering him some more"

@exceptionally_K
Triple Action Formula:
Step 1:
Cool the pain
With menthol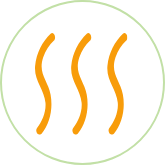 Step 2:
Numb the pain
With lidocaine
Step 3:
Soothing Relief
With hemp seed extract
FDA Compliant Drug Facts Panel
FDA Compliant Drug Facts Panel
Don't Like it? Get a Refund!
If you're not satisfied with your product for any reason, send it back within 30 days for a full refund, no questions asked!
Relieve Knee Pain & Increase Mobility For Under $2 a Day!
Hempväna® KneeBird®
2 Week Supply
($2.85 Per Day)
(4.9)
$39.99
Hempväna® KneeBird®
1 Month Supply
($1.99 Per Day)
(4.9)
$59.70
Hempväna® KneeBird®
2 Month Supply
($1.67 Per Day)
+ Free Hempväna Arthritis RollerBall ($20 Value)
(4.9)
$99.99
FREQUENTLY ASKED QUESTIONS
Do you offer payment plans?
+
Yes! Hempväna offers AfterPay which allows you to split your order into 4 interest free payments!
We also accept PayPal and Amazon Pay.
And of course we accept all major credit cards!
When should I expect my order?
+
All orders are shipped within one business day via USPS or FedEx from one of our warehouses located in Pennsylvania and Nevada.
Orders typically take 3-5 business days to be delivered.
Tracking information provided via email from customersupport@hempvana.com upon shipment of your order.
How long till I get results?
+
Results may vary, but you should start to feel relief within minutes of applying KneeBird®. Initially you will feel cooling relief followed by a numbing of your knee pain. The more often you use the patch, the less pain you will have.
What if I don't like the product or see results?
+
If you don't like KneeBird® for any reason or don't think the product is working for you, you can it back for a refund within 30 days of delivery. No questions asked.
How do I use Hempväna® KneeBird®?
+
Use a pair of scissors to cut open the protective packaging. Remove the KneeBird® patch. Peel off the backing. Apply the patch just below your kneecap on the knee where you experience pain.
Wear one patch at a time for up to eight hours or relief. If you wish to change patches more frequently, you can use 3-4 patches daily as needed.
Are there any restrictions for use?
+
Because we use FDA listed pain-fighting ingredients, you should read all directions, warnings, and information on the Drug Facts panel before use.
Self-Diagnosis Knee Pain Chart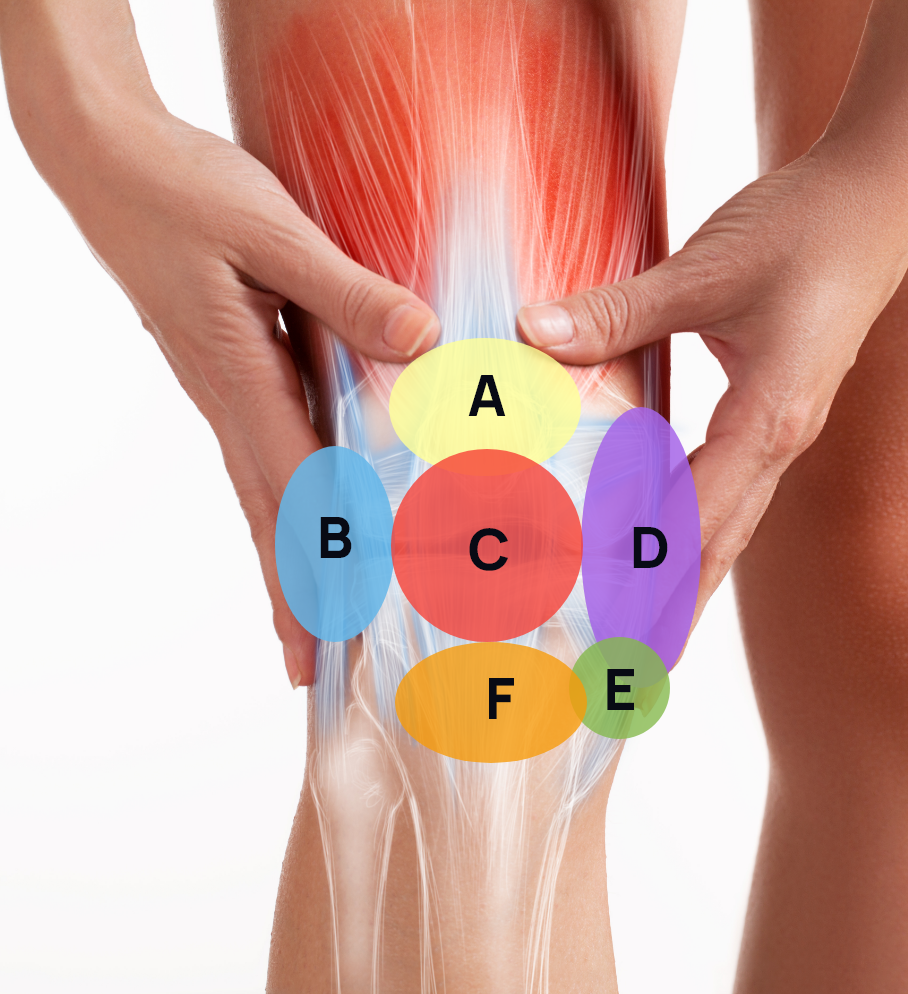 A:
Quadriceps Tendonitis
Quads Tendon Rupture
B:
ITB Syndrome
Lateral Meniscus Tear
LCL Injury
Dislocated Patella
C:
Patellofemoral Pain Syndrom
Chondromalacia Patella
Arthritis
Housemaids Knee
Bipartite Patella
D:
MLC Sprain
Medial Meniscus Tear
Arthritis
E:
Medial Pilica Syndrome
Pes Anserine Bursitis
F:
Patellar Tendonitis
Osgood Schalters Disease
Osteochondritis Dissecans
SLJ Disease
Infrapatellar Bursitis
Really Works
"Got this for my dad who constantly gets knee pain as he does manual labor for his occupation. He said he felt the difference immediately. Will be ordering him some more."
Relieved Pain & Softens Skin
"The Hempvana Knee Bird Relief patches fit snuggly around the knee cap. The cooling sensation & the pain numbing effect eases the knee pain. The hemp oil softened the knee area as well which was a bonus to the relief. These patches work well for after recovering from knee surgery where pain is still present & healing. The patches have a deep therapeutic feeling to them."
Impressive Pain Relief in an Impactful Design
"My husband struggles with knee pain and this dissolved the pain within minutes so he could continue to do a variety of tasks. The pain relief is long lasting even after the bandage comes off. The bandage perfectly flexes with the knee and touched most of the sides and front of the kneecap."
Good Product, Fast Acting
"I put this on the back of my knee, and felt it work instantly. I could feel the lidocaine ointment as soon as I put the patch on. You are only supposed to put one patch on at a time. I liked the way this worked and wish I could've put a pad on several parts of my body where I have pain. Works well for joint pain."
Awesome
"No more pain! I instantly felt at least 50 percent less pain than before. Highly recommend"
Works Great and Stays Stuck
"I like these a lot. They work well for my leg pain and I can use them in areas I cannot use square patches. They stick great and dont smell overly mediciney like others I have used. Overall Good value for the money."
Long Lasting Pain Relief
"IMy husband uses these on his knee on his really bad days. He said he quites a bit of relief from them and it's almost immediate. I just wish there was more then 3 in a pack. They did stay in place for him during a full work day and left his skin feeling soft even after it was removed. Definitely helps him to take the edge off in between his knee injections."